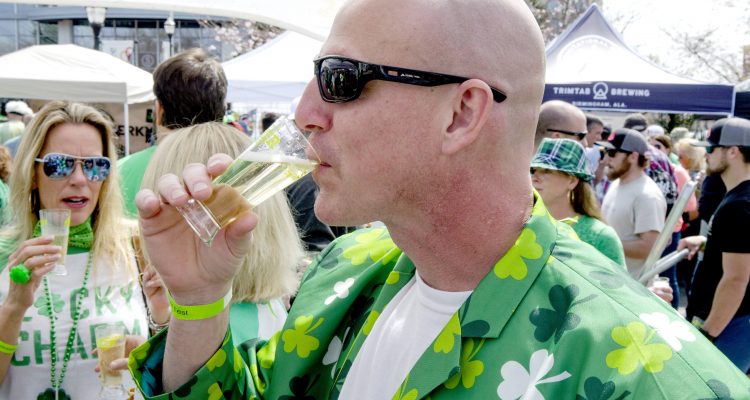 New breweries for 2020 festival:
Georgia Beer Co.: Known as "Georgia's Southernmost Brewery," Georgia Beer Co. is a brewery and taproom in Valdosta that specializes in seasonal ales, stouts and IPAs using locally sourced ingredients. They brew most of their beers true to traditional style, but with as many Georgia-grown ingredients as they can get their hands on.
Glover Park Brewery: Located just steps away from the Marietta Square, Glover Park is a space where the community can gather and kick back while enjoying locally crafted beers. The team has been working closely with Kevin McNerney, co-founder of SweetWater Brewing, to create traditional mainstays like ales, IPAs and stouts, while also offering up seasonal brews.
NoFo Brew Co.: What started as an idea from three friends who love craft beer and their community has grown into NoFo Brew Co., a microbrewery that officially opened its doors in North Forsyth last September. The team has since created a unique environment centered around great craft beer where new ideas and friendships are brewed.
Schoolhouse Brewing:Located in Marietta, Schoolhouse Brewing is owned by former teachers —  hence the name! Thetaproom features 20 rotating beers on tap, a home brew shop with grains, hops, yeast and supplies, a private events room referred to as the "Detention Room," and a dog-friendly, fenced-in patio with games like frisbee golf.
Social Fox Brewing: Norcross's first craft brewery, Social Fox is slated to open in spring of 2020. They seek to be the next symbol for the town of Norcross, to give back to the community, and most importantly perfect the art and science of brewing quality world class craft beer.
Fire Maker Brewing Company: Fire Maker is a new Atlanta brewery opening in March 2020 who is committed to people and the beers they want to drink.
Firewater Brewing Company: A new brewery coming soon to Kennesaw.
Tantrum Brewing Company: In March 2018, family-owned craft brewery Tantrum Brewing Company broke ground in the mountainside of Cleveland, Georgia, seeded by a single dream of creating a community around beer. Tantrum CEO Ross Crumpton's love of home brewing quickly grew into a passion for craft beer. Tantrum Brewing Company was founded on the uncompromising values of hard work, family and community.
Khonso Brewing Company: Khonso fuses different beer styles together to create a unique beer experience. Their eclectic beer recipes have bold flavors, aromas and a distinct vibe that comes from the blending of different flavors and styles to create new ones.
The Lost Druid: The Lost Druid is the first own-premise brewery in Avondale Estates, Georgia. Featuring a community-centric taproom and a shareable/small plate-oriented kitchen, The Lost Druid will become your new favorite local beer venue for both daily socializing and special occasions.
Line Creek Brewing Company: Focused on creating fresh and flavorful hand crafted beers, Line Creek strives to produce a lineup of beers that will appeal to everyone – from the most avid craft beer fan to the casual consumer. Melding traditional, time proven brewing processes with cutting edge techniques, their profound affection for the art of brewing stands out in every pint.
Heist Brewery: Heist opened its doors in 2012, as Charlotte's only Craft Brewpub. Originally brewing on a 10HL German brewhouse, they have opened a 30 barrel production facility. Heist focuses on small batch beer ranging from traditional Belgian Table Beers, Saisons to IPA's and Double IPA's to Porters and Imperial Stouts.
Wiseacre Brewing Co.: A brewery committed to top quality, uniquely flavorful beer that appeals to passionate and progressive people through education and good times. Brothers Davin and Kellan Bartosch dreamed up Wiseacre many moons ago and have been on an extensive quest procuring top-notch experience from around the globe to deliver the crunkest brewery possible in their groovy hometown of Memphis, TN.
Full brewery list for the 2020 festival:
6 Bridges
Akademia
Anderby
Arches
Atlanta Brewing
Beacon Brewing
Burnt Hickory
Chattabrewchie
Cherry Street
Creature Comforts
Dalton
Fannin County
Fire Maker
Firewater
From the Earth
Gate City
Georgia Beer Co.
Glover Park
Good Word
Jeckyll
Khonso Brewing
Ironmonger
Left Nut Brewing
Line Creek
Macon Beer
Monday Night Brewing
Monkey Wrench
New Realm
NoFo
Oconee Brewing
Omaha
Orpheus
Pontoon
Pretoria Fields
Red Hare Brewing
Reformation
Sceptre Arts
Schoolhouse Brewing
Scofflaw
Second Self
Slow Pour
Southern Brewing
Steady Hand
StillFire
Sweetwater
Tantrum Brewing
Terrapin
The Lost Druid
Three Taverns
Tucker
Wild Heaven
Wild Leap
Wrecking Bar
21st Amendment
Abita
Ace Cider
Against the Grain
Allagash
Back Forty
Bell's
Blake's Cider
Brooklyn Brewing
Cayman Jack
Cigar City
Devil's Backbone
Dogfish Head
Founders
Green Man
Guinness
Hardywood
Heist
Hi Wire
Highland
Holy City
Hutton & Smith
Lagunitas
Lazy Hiker
Magner's
Mike's
New Belgium
Noble Cider
Oskar Blues
Prairie Brewing
Red Clay
Rome City
Smithwyck's
Southern Barrel
Southern Prohibitiom
Stone
Treehorn Cider
Trim Tab
Two Pitchers Brewing
White Claw
Wicked Weed
Wiseacre