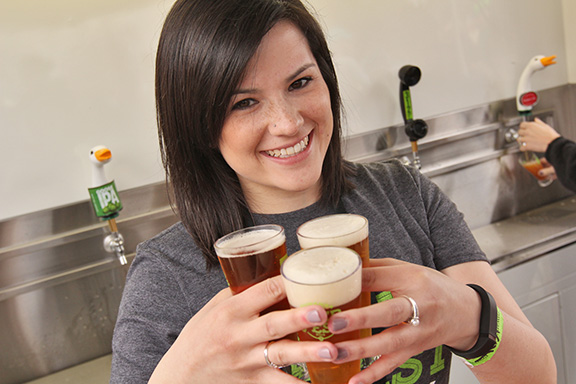 New breweries for the 2021 festival:
Georgia Beer Co.: Known as "Georgia's Southernmost Brewery," Georgia Beer Co. is a brewery and taproom in Valdosta that specializes in seasonal ales, stouts and IPAs using locally sourced ingredients. They brew most of their beers true to traditional style, but with as many Georgia-grown ingredients as they can get their hands on.
NoFo Brew Co.: What started as an idea from three friends who love craft beer and their community has grown into NoFo Brew Co., a microbrewery that officially opened its doors in North Forsyth in September 2019. The team has since created a unique environment centered around great craft beer where new ideas and friendships are brewed.
Tantrum Brewing: Tantrum is a family owned and operated brewery located in the North Georgia mountains that started as a single dream of creating a community around beer. They are passionate about making beer better while upholding the values of hard work, family and community.
Firewater Brewing Company: Firewater is a firefighter owned and operated start-up brewery located in Kennesaw who love beer and making their community happy.
Ironshield Brewing: A new brewery located in Lawrenceville that specializes in European style beer in a taproom reminiscent of a German beer hall. The team at Ironshield have more than 30 years of experience, and they bring that knowledge to crafting beers for the heroes and legends among us.
Full brewery list for the 2021 festival:
6 Bridges
Ace Cider
Anchor Brewing Co.
Akademia Brewing Co.
Anderby
Arches
Apparition Brewing
Atlanta Brewing Co.
Austin Eastciders
Back Forty Beer Co.
Beacon Brewing Co
Best End Brewing
Boulevard Brewing Co.
Brew Dog USA
Brewery Ommegang
Burnt Hickory Brewery
Cayman Jack
Cherry Street Brewing
Chihuahua Brewing Co.
Creature Comforts
Copperhill Brewery
Cultivation Brewery
Currahee Brewing Co.
Dahlonega Brewery
Dalton Brewing Co.
Devil's Backbone Brewing Co.
Dogfish Head Craft Brewery
Dry County Brewing Co.
Fall Line Brewing Co.
Fat Bottom Brewing Co.
Fire Maker Brewing Co.
Firewater Brewing Co.
Founders Brewing Co.
Gate City Brewing Co.
Georgia Beer Co.
Harpoon Brewery
Highland Brewing Company
Hi-Wire Brewing
Hop Valley Brewing Co.
Indio Brewing
Ironmonger Brewing Co.
Ironshield Brewing
Jekyll Brewing
Jack's Cider
Lagunitas Brewing Co.
Line Creek Brewing Co.
Mike's Hard Lemonade
Monday Night Brewing
Monkey Wrench Brewing
Monk's Meadery
Montucky Cold Snacks
New Belgium Brewing
New Holland Brewing Co.
New Realm Brewing
NoFo Brew Co.
Oconee Brewing Co.
Omaha Brewing Co.
Outrun Brewing Co.
Orpheus Brewing
Prairie Brewing Co.
Pontoon Brewing
Pretoria Fields
Red Hare Brewing Co.
Reformation Brewery
Rightside Brewing
Rock Solid Brewing
Sceptre Brewing Arts
Schoolhouse Brewing
Scofflaw Brewing Co.
Second Self Beer Co.
Sierra Nevada Brewing Co.
Slow Pour Brewing Co.
Social Fox Brewing
Southbound Brewing Co.
Southern Brewing Co.
Steady Hand Beer Co.
Stone Brewing
StillFire Brewing
SweetWater Brewing Co.
Sycamore Brewing
Tantrum Brewing Company
Terrapin Beer Co.
The Lost Druid Brewery
Thomas Creek Brewery
Three Taverns Brewery
Treehorn Cider
Trim Tab Brewing Co.
Tucker Brewing Co.
Urban Tree Cidery
Wild Heaven Beer
Wild Leap Brewing
White Claw Hard Seltzer
Wicked Weed Brewing Pub
Wrecking Bar Brewpub