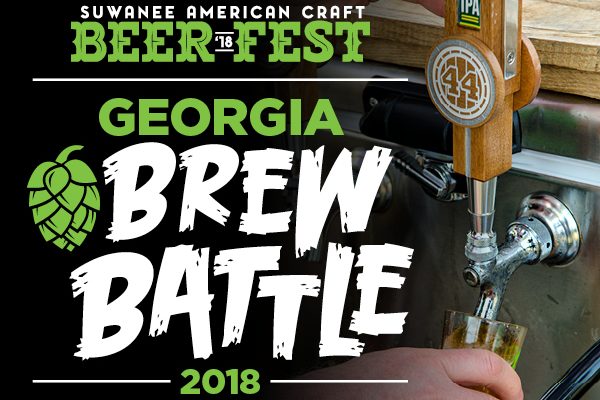 Suwanee Beer Fest is once again giving the power to the people with its annual Georgia Brew Battle, where local attending breweries will put their best beer forward to compete for the title of Georgia's Best Beer. Each festival attendee will receive a token upon entry that they can then use to cast a vote for their favorite Georgia brewery. Peruse the Georgia Craft Beer Garden and sample from more than 30 local breweries like Jekyll, Bluetarp, Cherry Street, Monday Night, Wild Heaven, Creature Comforts, Steady Hand, Scofflaw, Reformation and more, who will be pouring alongside Suwanee Beer Fest newbies like From the Earth, Slow Pour, Oconee, Good Word, Variant, and New Realm, among others (see the full list below). Once you've had your fill, simply place the token in the bucket of your chosen beer and they'll tally the results near the end of the festival to crown the top brew.
The winner will take home the coveted Golden Cup Trophy — and bragging rights, of course. 2017's reigning champs Dry County Brewing will be back. Will they reclaim the throne? Let the best brew win!
Purchase your tickets to Suwanee Beer Fest to sample more than 350 craft beers, join the St. Patrick's Day festivities, and more! The ticket price increases March 1, so don't delay!
The full list of Georgia Breweries attending 2018 Suwanee Beer Fest:
Ironmonger
From the Earth
Abbey of the Holy Goats
Bluetarp Brewing Company
Cherry Street Brewing
Fannin Brewing Company
Jailhouse Brewing Company
Jekyll
Left Nut Brewing
Monday Night Brewing
Rome City
Slow Pour
Southern Brewing Co
Wild Leap
Red Brick
Oconee
Pontoon
Wild Heaven
Good Word Brewing
Akademia
Bee Craft
Terrapin
Creature Comforts
Coastal Empire
Service Brewing
Steady Hand
Three Taverns
Variant
Eventide
Gate City
New Realm
Orpheus
Scofflaw
Second Self
Southbound
Sweetwater
Treehorn Cider
Wrecking Bar
Red Hare
Reformation
Arches
Burnt Hickory
Omaha
Dry County Brewing