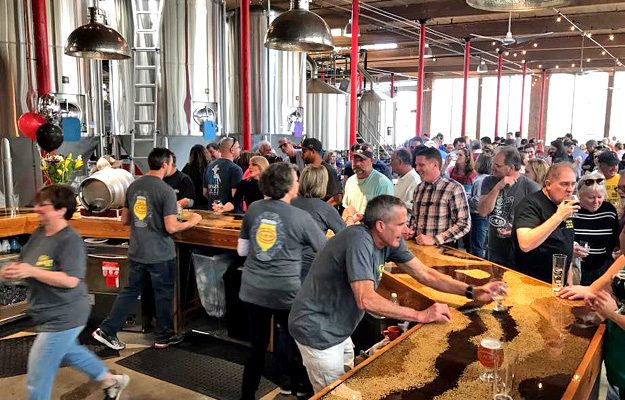 Since opening in 2013, Gainesville's Left Nut Brewery has grown into a true hangout destination, where on any given night you can find people of all ages sitting at long communal tables conversing and playing board games.
And that's exactly the vision owner Nilanjan "Pap" Datta had in mind when he left corporate America to toss his hat into the craft beer scene. His passion for good beer is matched only by his team, which includes brewers Rick Foote and Jason Ford.
Together, they transformed a 1927 Johnson and Johnson Textile Mill into a community-focused brewery that brews its beers with a lot of love and a little quirk.
We recently had the chance to catch up with the Left Nut team to learn more about the experience they are bringing to the local craft beer scene.
Suwanee Beer Fest: How did you guys come together to open a brewery?
NILANJAN "PAP" DATTA, OWNER: Back in 2012, opening a brewery was more of just a concept, but in 2013 I decided that I was going to do this and created a name, business plan, and worked to get introduced to other people in the industry. One of these people was Kevin McNerney, a founding brewer of SweetWater Brewing. He engaged us as a friend, advisor, and as a consultant. Kevin and I discussed next steps and he really gave us the knowledge and personnel we needed to be successful.
SBF: How did you come up with the name "Left Nut?"
PAP DATTA: After spending 30 years in Corporate America, I was tired of constantly being on airplanes and in cubicles. The bottom line was that the job I was doing was lacking soul. I had a passion for craft brewing and good beer, so I made an effort to learn all about the brewing process as I was traveling. I knew this was ultimately what I wanted to do, so I left a successful business career to open Left Nut, and its name is a reflection of that willingness to give up something of extreme value.
SBF: What made you choose this location?
PAP DATTA: This was actually not our preferred choice. One of our brewers, Rick Foote, had been the person who brought me to this location and we toured it and we both realized this would take more work than a location we had found in downtown Gainesville. But, as fate would have it, this became our primary plan and we spent almost a year renovating this place. This 1927 Johnson and Johnson textile mill gave us a historical footprint to exercise our passions. When we came here there were no floors and low ceilings, so we basically gutted the place and restored the look of the original ceiling. Our brewers, Rick and Jason, were very involved with the renovation process. All of the tile work was done by Jason, and the bar and tables were reclaimed and refinished by the two of them. Our families and volunteers were also very helpful. The brew-loving community came together and in result, we have a nice warm beautiful structure that we are very proud of.
SBF: How did you meet/choose your brewers?
PAP DATTA: Kevin from SweetWater introduced me to Rick Foote, and at the time he had been home brewing since the '80s. Kevin told me that I had to meet him and that the guy hadn't made anything he disliked. We went and met with him, and what was supposed to only be a half-hour meeting turned into a three-hour hangout. We loved Rick and brought him onto the team, but we also came to the conclusion that we needed someone who had a background in commercial level brewing, so Kevin also introduced me to Jason Ford. The two had worked at SweetWater together and Jason was also a brewer with Monday Night. He has over 13 years of commercial brewing experience and was the perfect addition to our team.
SBF: What excites you guys most about brewing?
RICK FOOTE, BREWER: I love seeing the pleasure on people's faces when they are enjoying our handiwork.
KATE PARKER, ACCOUNT MANAGER: The sense of community and collaboration.
PAP DATTA: Our customers feel like they have a sense of ownership over this brewery.
SBF: What makes Left Nut unique?
PAP DATTA: I think our beers are what makes us unique because we are very dedicated to offering you a great style with our own little quirks. Our brewers have a tendency to create very smooth beers that also have very high alcohol content. It is a very community-oriented place with communal tables that allow people to come and hang out together. You get a lot of diversity with the lake being so close as well as colleges in the area. For example, on any night you can come in and see the elderly playing Cards Against Humanity with the college students. We also have all of our cans and packaging designed by a local Gainesville artist named Hal Delong. All of the artwork is original and local, and that helps to grow that sense of community.
SBF: Tell us a little more about your 'Til No Child is Hungry Campaign?
PAP DATTA: When we arrived, the community really embraced us, and we wanted to have a meaningful contribution back to the community. One of our biggest pet peeves is that we think there should not be hungry kids in this country, so we partnered with the Georgia Mountain Food Bank to help fight childhood hunger. Because of this, any cans or bottled beers purchased here at the brewery or wholesale get a portion of the proceeds donated to the Georgia Mountain Food Bank. It's not so much about the amount of money we raise, but instead, it's about the impact that we have made. I would love to be able to show people, "Here are the faces this has helped, and how much money you raise is just a number.
SBF: What is your biggest seller in the taproom?
Jason Ford, Brewer: There really is a three-horse race between the Lappland Blonde, the Hooch Shootin', and the Sweet Magnolia. The Sweet Magnolia is our blonde ale with mango, and due to its popularity, it's been added to our brewery list year-round. We have also added it to packaging starting this spring.
SBF: If you could recommend a seasonal beer, what would it be?
Jason Ford, Brewer: Definitely the Leaping Lena. If you look in the market, there are very few breweries doing true Imperial Red Ales. It's very well-crafted and something I always recommend.
SBF: Where can Gwinnett County residents find your beer other than the brewery?
Kate Parker, Account Manager: Taco Mac Suwanee and Mall of Georgia, Kroger, package stores such as Beverage Superstore and Mega Package in Suwanee.