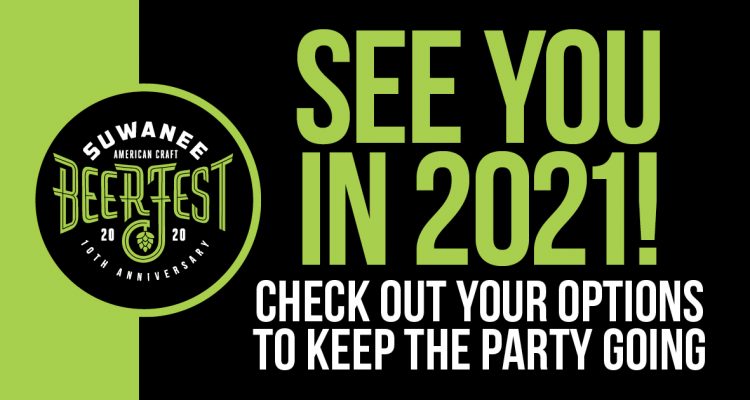 Due to the influx of COVID cases here in Georgia, the City of Suwanee has elected to cancel all events through September, including this year's Suwanee Beer Fest, which was scheduled to take place on Aug. 29. We are incredibly disappointed by the news, but understand that the safety of all attendees, vendors, volunteers and the community at large is paramount. And while COVID may take away our festival, it'll never take away our love for beer! That's why we've decided to keep the party going until we can all be together again in 2021!
As a small organization unaffiliated with the City of Suwanee, we invest an immense amount of time, money and effort to put on a world-class festival each year. The decision to cancel, while unavoidable, will be felt hard by our organization, as well as all of the vendors, local businesses and breweries who rely on the monetary support of festivals like Suwanee Beer Fest. 
Since the beginning, we envisioned Suwanee Beer Fest as a fun way to unite beer lovers and celebrate craft breweries because, let's face it, we love living that #CraftBeerLife. We've also strived to become a trusted, community-focused event that supports local businesses and gives back to Suwanee organizations. In this spirit, each year we donate a portion of ticket sales to Cooper's Crew, a local nonprofit dedicated to cancer research.
We know this is disappointing news, but we are excited to regroup and start planning our 10th anniversary celebration, which will now take place on March 20, 2021. We can not thank all of you enough for your continued support over the years, especially now during this unprecedented time. We hope to see all of you in 2021 — we promise to pull out all the stops to make it our biggest and best festival yet! In the mean time, we've provided a few options for you regarding your 2020 Suwanee Beer Fest tickets, including a way you can give COVID the middle finger while supporting local breweries in the process. 
Option #1: Transfer your ticket to next year. Tickets tend to sell out quickly, and this year VIP sold out in just one day! Choosing to hold onto your ticket for next year will provide you with the peace of mind knowing you have secured your spot to attend the biggest and best beer fest in the Southeast. If you choose to do this, visit Suwanee-Beer-Fest.paperform.co.
Option #2: Donate $25 and receive a t-shirt. For those who elect to transfer their ticket to 2021 or get a full refund, you may still choose to donate $25 to help Suwanee Beer Fest through this unexpected financial challenge, to help us recoup some of the upfront expenses and set us up for success next year. In return, we will provide you with a 2020 festival t-shirt. We will also donate a portion of proceeds to Cooper's Crew, our 501(c)(3) benefiting charity. If you choose to do this, visit Suwanee-Beer-Fest.paperform.co.
Option #3: Option #4 is going to hurt, but we understand it's tough out there. If it must be done you can receive a full refund by visiting Suwanee-Beer-Fest.paperform.co before August 20th.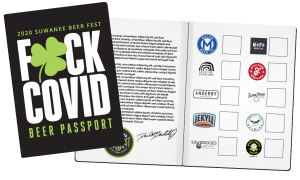 Option #4: Trade your ticket in for an exclusive 2020 Suwanee Beer Fest F*ck Covid Passport. We have partnered with Georgia breweries to provide one free beer of their choice to passport holders who visit their taproom. This adds up to more than $60 of free beer, and provides Georgia's breweries with much needed support in these difficult times. We want to see them at next year's festival after all this is over! Participating breweries include Social Fox, Slow Pour, NoFo Brew Co., StillFire, Macon Beer Co., Sceptre Arts Brewing, Anderby, Monkey Wrench and more to be announced.
Included with the passport is a 2020 swag pack that features a Suwanee Beer Fest T-shirt, a commemorative 5 oz. tasting glass, and a brew caddy that can be used to hold your beer at next year's festival! PLUS, everyone who completes the passport will receive a special gift at the 2021 festival! The passports are good through March 20, 2021. If you choose to do this, visit Suwanee-Beer-Fest.paperform.co.
VIP: If you are a VIP ticket holder, you get both option 1 and 2 — you can transfer your ticket to next year and also receive the F*ck Covid Passport and swag pack. 
To select which option works best for you, visit Suwanee-Beer-Fest.paperform.co.
Selections must be made by August 20, 2020!
We want to take this time to thank you, the attendees, for your continued support of Suwanee Beer Fest. We know these aren't ideal circumstances, and we greatly appreciate your understanding. And to our vendors, sponsors, and Georgia breweries, we look forward to sharing a beer with you all at next year's festival. Stay safe, everyone!