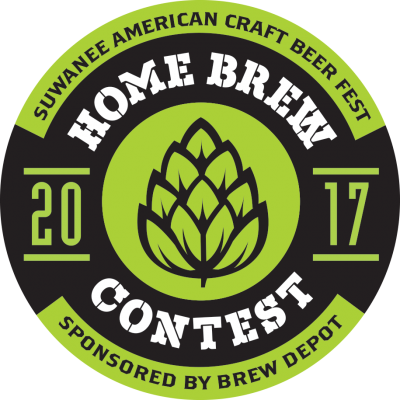 Open Registration Now through March 6th
Each brewer is allowed up to 6 entries, 1 per category.
We will accept between 250-300 entries.
The judging will take place on Saturday, March 11th. The winner of each
category will move on to compete for Best in Show – which will be judged
the day of Suwanee Beer Fest, Saturday, March 18th. Winners will be
announced at Suwanee Beer Fest. Home Brew Competition brewers must still
purchase tickets to attend Suwanee Beer Fest.
This competition will follow the BJCP new style guidelines – found here:
http://bjcp.org/docs/2015_Guidelines_Beer.pdf
For a full list of rules and to register visit:
---
The 2016 Fourth Annual Home Brewing Contest was a huge success. We had over 400 entries and more categories than ever.
Thanks To All Who Participated in the 2016 Suwanee Beer Festival Homebrew Competition
Best of Show Winners
Best of Show – Beer
| Place | Brewer(s) | Entry Name | Style | Club |
| --- | --- | --- | --- | --- |
| 1st | Robert Miller | Not So Common | 7B: California Common Beer | Brewmasters of Alpharetta |
| 2nd | Tim Lewis | Thanks To Matt Brynildson | 23A: Specialty Beer | BrewMasters of Alpharetta |
| 3rd | Manny Roque | London Calling | 14B: American IPA | |
Winning Entries
Table 1: Light Lager & Pilsner (8 entries)
| Place | Brewer(s) | Entry Name | Style | Club |
| --- | --- | --- | --- | --- |
| 1st | Carl Leitz | Cheryl's Pils | 2C: Classic American Pilsner | |
| 2nd | Alan Brune | River Wood Pilsner | 2C: Classic American Pilsner | |
| 3rd | George Downs | Grandad's | 2B: Bohemian Pilsener | Brewmasters of Alpharetta |
| HM | Robert Miller | Festbier | 1D: Munich Helles | Brewmasters of Alpharetta |
Table 2: European Amber & Dark Lagers, Bock (7 entries)
| Place | Brewer(s) | Entry Name | Style | Club |
| --- | --- | --- | --- | --- |
| 1st | Robert Miller | Not So Common | 7B: California Common Beer | Brewmasters of Alpharetta |
| 2nd | Ryan Malloy | All Day Dunkel | 4B: Munich Dunkel | Brewmasters of Alpharetta |
| 3rd | Brandon Mines | Rocky's Oktoberfest | 3B: Oktoberfest/Marzen | |
Table 3: Light Hybrid (11 entries)
Place
Brewer(s)
Entry Name
Style
Club
1st
Robert Miller
VB Rye Ale
6D: American Wheat or Rye Beer
Brewmasters of Alpharetta
2nd
Brad Hamrlik
Crossover Kolsch
6C: Kolsch
Brewmasters of Alpharetta
3rd
Jordan Morgan
Blonde
6B: Blonde Ale
Brewmasters of Alpharetta
HM
Zac Owen
Co-Brewer: Brent Newberry
Canary In A Kolsch Mine
6C: Kolsch
New London Brew Club
Table 4: English Pale Ale (8 entries)
Place
Brewer(s)
Entry Name
Style
Club
1st
Diego Diaz
Shellycoat Bitter
8B: Special/Best/Premium Bitter
2nd
Brian Ruswinkle
Co-Brewer: Jimmy Noble
English Ale
8B: Special/Best/Premium Bitter
3rd
Alan Brune
Baron Bingley's Bitter
8A: Standard/Ordinary Bitter
Table 5: Scottish & Irish Ale (5 entries)
Place
Brewer(s)
Entry Name
Style
Club
1st
Bill Losey
Great Scott Jimmy
9C: Scottish Export 80/-
Woodstock Malt Monkeys
2nd
Trevor Moore
Co-Brewer: Chris Cooper & Jessica Moore
Trick Daddy's Scotch Ale
9E: Strong Scotch Ale
Covert Hops Society
3rd
Jordan Morgan
Irish Ale
9D: Irish Red Ale
Brewmasters of Alpharetta
Table 6: American Pale Ale (18 entries)
Place
Brewer(s)
Entry Name
Style
Club
1st
Ryan Boling
Redemption
10A: American Pale Ale
Brewmasters of Alpharetta
2nd
Chris Jones
Cascitra Pale Ale
10A: American Pale Ale
New London Brew Club
3rd
Scott Schneider
Co-Brewer: Andrew Campbell, Stephen Mcgowin
Citraus Pale
10A: American Pale Ale
Oakmont
HM
Curt Royer
Co-Brewer: Mike Langsdorf
Voice Of Reason APA
10A: American Pale Ale
Long Village Brew Club
Table 7: American Amber & Brown Ale (11 entries)
| Place | Brewer(s) | Entry Name | Style | Club |
| --- | --- | --- | --- | --- |
| 1st | Tad Kays | Hopswell 12 | 10B: American Amber Ale | Final Gravity Craft Brewers |
| 2nd | Ryan Malloy | Bangin Brown Ale | 10C: American Brown Ale | Brewmasters of Alpharetta |
| 3rd | Mark Rudeseal | Dammit Janet Brown Ale | 10C: American Brown Ale | New London Brew Club |
Table 8: English Brown Ale (8 entries)
| Place | Brewer(s) | Entry Name | Style | Club |
| --- | --- | --- | --- | --- |
| 1st | Tad Kays | Norwegian Wood 2 | 11C: Northern English Brown Ale | Final Gravity Craft Brewers |
| 2nd | Jordan Morgan | Mild | 11A: Mild | Brewmasters of Alpharetta |
| 3rd | Robert Miller | BB Brown Ale | 11C: Northern English Brown Ale | Brewmasters of Alpharetta |
Table 9: Porter (12 entries)
Place
Brewer(s)
Entry Name
Style
Club
1st
Andy Park
Baltic Porter
12C: Baltic Porter
Brewmasters of Alpharetta
2nd
Christopher Hankinson
Bournilla Porter
12C: Baltic Porter
Brewmasters of Alpharetta
3rd
Trevor Moore
Co-Brewer: Chris Cooper & Jessica Moore
Trick Daddy's Magical Elixir
12A: Brown Porter
Covert Hops Society
Table 10: Dry & American Stout (7 entries)
Place
Brewer(s)
Entry Name
Style
Club
1st
Zac Owen
Thunderbird
13E: American Stout
New London Brew Club
2nd
Mike Greene
Co-Brewer: Kevin Keyes
Why Not?
13A: Dry Stout
400 North Brewing
3rd
Scott Lathrop
7 Inch Pubic Hair
13E: American Stout
Covert Hops
Table 11: Sweet, Oatmeal & Foreign Extra Stout (7 entries)
Place
Brewer(s)
Entry Name
Style
Club
1st
Ryan Boling
The Relic
13D: Foreign Extra Stout
Brewmasters of Alpharetta
2nd
Ryan Boling
Sugar Mama's Black Bow Tie
13B: Sweet Stout
Brewmasters of Alpharetta
3rd
Laurie Klebosky
Co-Brewer: Matthew Klebosky
ChocoPo
13B: Sweet Stout
Table 12: Imperial Stout (8 entries)
| Place | Brewer(s) | Entry Name | Style | Club |
| --- | --- | --- | --- | --- |
| 1st | Bob Monte | Bud's 60th Imperial Stout | 13F: Imperial Stout | Jeddog Brewing Company |
| 2nd | Jarrett Shalhoop | Big Bad Breakfast Stout | 13F: Imperial Stout | |
| 3rd | Tim Stone | Dr. Evil's Russian Imperial Stout | 13F: Imperial Stout | New London Brew Club |
Table 13: English & Imperial IPA (8 entries)
| Place | Brewer(s) | Entry Name | Style | Club |
| --- | --- | --- | --- | --- |
| 1st | Manny Roque | Trois The Fun IPA | 14C: Imperial IPA | |
| 2nd | Tad Kays | Painted Lady 6 | 14C: Imperial IPA | Final Gravity Craft Brewers |
| 3rd | Shane Hunziker | Stonehenge | 14A: English IPA | |
Table 14: American IPA (18 entries)
| Place | Brewer(s) | Entry Name | Style | Club |
| --- | --- | --- | --- | --- |
| 1st | Manny Roque | London Calling | 14B: American IPA | |
| 2nd | Diego Diaz | Almost Awesome IPA | 14B: American IPA | |
| 3rd | Tad Kays | Hard Way 6 | 14B: American IPA | Final Gravity Craft Brewers |
| HM | Mike Branam | American IPA | 14B: American IPA | New London Brew Club |
Table 15: German Wheat & Belgian Wit (7 entries)
Place
Brewer(s)
Entry Name
Style
Club
1st
Mark Rudeseal
He Ain't Hefe
15A: Weizen/Weissbier
New London Brew Club
2nd
Blake Roberts
Belgian Wit
16A: Witbier
None
3rd
Chris Brown
Co-Brewer: Aaron Libera
German Wheat
15A: Weizen/Weissbier
The Brewing Network
Table 16: Belgian & French Ale (11 entries)
Place
Brewer(s)
Entry Name
Style
Club
1st
Brian Hewitt
Co-Brewer: Tim Dennis
Synesthesia American
16E: Belgian Specialty Ale
A Tribe Called Grist
2nd
Andy Park
Blonde's Have More Fun
16B: Belgian Pale Ale
Brewmasters of Alpharetta
3rd
Jeff Asemota
Asemota Belgian Pale Ale
16B: Belgian Pale Ale
Table 17: Sour Ale (6 entries)
Place
Brewer(s)
Entry Name
Style
Club
1st
Timothy Schiavone
Flanders Red
17B: Flanders Red Ale
N/A
2nd
Blake Roberts
Berliner Weisse
17A: Berliner Weisse
None
3rd
Derek Needham
Co-Brewer: Alan Pugh
Ich Bin Ein Berliner
17A: Berliner Weisse
MASH
Table 18: Belgian Strong Ale (16 entries)
| Place | Brewer(s) | Entry Name | Style | Club |
| --- | --- | --- | --- | --- |
| 1st | Tim Stone | Dr. Evil's Belgian Dubbel | 18B: Belgian Dubbel | New London Brew Club |
| 2nd | Mike Branam | Belgian Tripel | 18C: Belgian Tripel | New London Brew Club |
| 3rd | Matt Porritt | Ermahgerd | 18E: Belgian Dark Strong Ale | |
Table 19: Strong Ale (5 entries)
Place
Brewer(s)
Entry Name
Style
Club
1st
Paul Bushell
Co-Brewer: Mike Branam
Doomsday Barleywine
19C: American Barleywine
New London Brew Club
2nd
Andy Park
American Barleywine
19C: American Barleywine
Brewmasters of Alpharetta
3rd
Ben Halter
Bearlywine
19C: American Barleywine
Brewmasters of Alpharetta
Table 20: Fruit, Spice, Herb & Vegetable Beer (21 entries)
Place
Brewer(s)
Entry Name
Style
Club
1st
Amanda Rodrigue
Co-Brewer: David Ducrest
Vanilla Chai Milk Stout
21B: Christmas/Winter Specialty Spiced Beer
ALEZ
2nd
Brian Hewitt
Co-Brewer: Tim Dennis
BANDITO!
21A: Spice, Herb, or Vegetable Beer
A Tribe Called Grist
3rd
D Blair Johnson
Co-Brewer: Kyle Jones
Hot Chocolate Stout
21A: Spice, Herb, or Vegetable Beer
HM
Isaac Ramsey
Chocolate Hazelnut Porter
21A: Spice, Herb, or Vegetable Beer
Table 21: Wood Aged & Other Smoked Beer (8 entries)
Place
Brewer(s)
Entry Name
Style
Club
1st
Jay Young
Imperial Oatmeal Cream Stout With Rum Soaked Hungarian Oak
22C: Wood-Aged Beer
2nd
Ben Halter
Oglethorpe
22C: Wood-Aged Beer
Brewmasters of Alpharetta
3rd
Derek Needham
Co-Brewer: Alan Pugh
Maple BBA Stout
22C: Wood-Aged Beer
MASH
Table 22: Speciality Beer (18 entries)
| Place | Brewer(s) | Entry Name | Style | Club |
| --- | --- | --- | --- | --- |
| 1st | Tim Lewis | Thanks To Matt Brynildson | 23A: Specialty Beer | BrewMasters of Alpharetta |
| 2nd | Chuck Furstenau | Thai Wheat | 23A: Specialty Beer | |
| 3rd | Chuck Furstenau | Bourbon Vanilla Porter | 23A: Specialty Beer | |