Like beer? Like people? Like fun? Volunteer at the 12th Annual Suwanee Beer Fest
at Suwanee Town Center on March 18th, 2023
Why volunteer?
You will receive an awesome, limited edition Suwanee Beer Fest volunteer shirt!
You will meet fellow beer enthusiasts in the community!
You are doing it for a good cause! A portion of all Suwanee Beer Fest proceeds will be donated to local non-profit, Cooper's Crew!
We couldn't do any of it without you!
What do volunteers do?
It takes 300+ volunteers to make the Suwanee Beer Festival a success. We are always looking for amazing volunteers to join our team, so gather a group and sign up today! Most volunteers will be assigned to a specific table and be pouring during the event while helping with set-up and/or breakdown. Most tents only require 2-3 volunteers – if your group is larger we may need to split you up and place you at adjoining tents to make sure we have each area staffed properly. Other volunteer opportunities include helping with ticketing. A high level of professionalism is required and a basic knowledge of beers being served is welcomed. Please be courteous and helpful to all participants and offer any assistance to those with special needs.
Due to the size of the festival, we will only have one pouring shift for the 2023 Suwanee Beer Fest. All volunteer shifts will run from 11:30am-5:00pm, with breaks being given during the festival for each volunteer to enjoy the festivities during that time. Our VOLUNTEER ZONE will include private bathrooms, lunch and water for volunteers only. Each volunteer will be required to work the entire duration of the event.
Minimum Age Requirements All beer pouring volunteers must be a minimum of 21 years of age before the event to volunteer.
THANK YOU!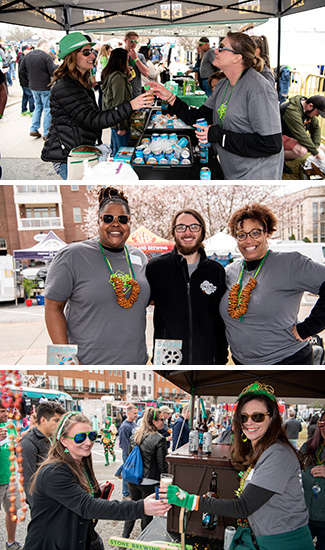 Thank you 2022 Volunteers for another great beer fest that we couldn't have done without you!