2023 Home Brew Contest Presented by Brew Depot
2023 Suwanee Beer Fest Home Brew Competition registration is now open, closes on February 25th.
2023 Suwanee Beer Fest "America's Cup Home Brew Competition"
This year as part of the Suwanee Beer Festival, the Home Brewing Competition will feature American Style Beers.
For more information and to register visit: http://brew-depot.com/
The styles that will be included for the competition are based on the BJCP style guide (www.bjcp.org) and are as follows:
Category 1 – Standard American Beer
1A – American Light Lager
1B – American Lager
1C – Cream Ale
1D – American Wheat
Category 18 – Pale American Ale
18A – Blonde Ale
18B – American Pale Ale
Category 19 – Amber & Brown American Ale
19A – American Amber Ale
19B – California Common
19C – American Brwon Ale
Category 20 – American Porter & Stout
20A – American Porter
20B – American Stout
20C – Imperial Stout
Category 21 – IPA
21A – American IPA
21 C – Hazy IPA & NEIPA
Category 22 – Strong American
22A – Double IPA
22B – American Strong Ale
22C – American Barley Wine
22D – Wheatwine
Critical dates:
Registration Opens: February 1, 2023
Registration Closes: February 25, 2023
General Awards Presentation: Time and place to be announced
Best of Show Presentation: Held at the Suwanee Beer Festival on March 18, 2023
More Details on the competition registration site, drop off information, judge registration. etc coming soon.
Congratulations to the 2022 Home Brew Contest Winners:
Best of Show Winners:
1st Place Best of Show – American IPA- Jeff Hartin
2nd Place BOS- Hazy IPA – Judy Jacovetty
Category 21a American IPAs
1st – Jeff Hartin
2nd Jay Brantley
3rd – James Logan
HM – Charles Famham
Category 21B – Specialty IPAs
1st – Jay Brantley
2nd – John Jacovetty
3rd – Guy Beck
Category 21C – Hazy IPA
1st – Judy Jacovetty
2nd – Jay Brantley
3rd – Adam Fiddler
Category 22A – Double IPA
1st – Rick McCann
2nd – Edgardo Beltran
3rd – Cory Buice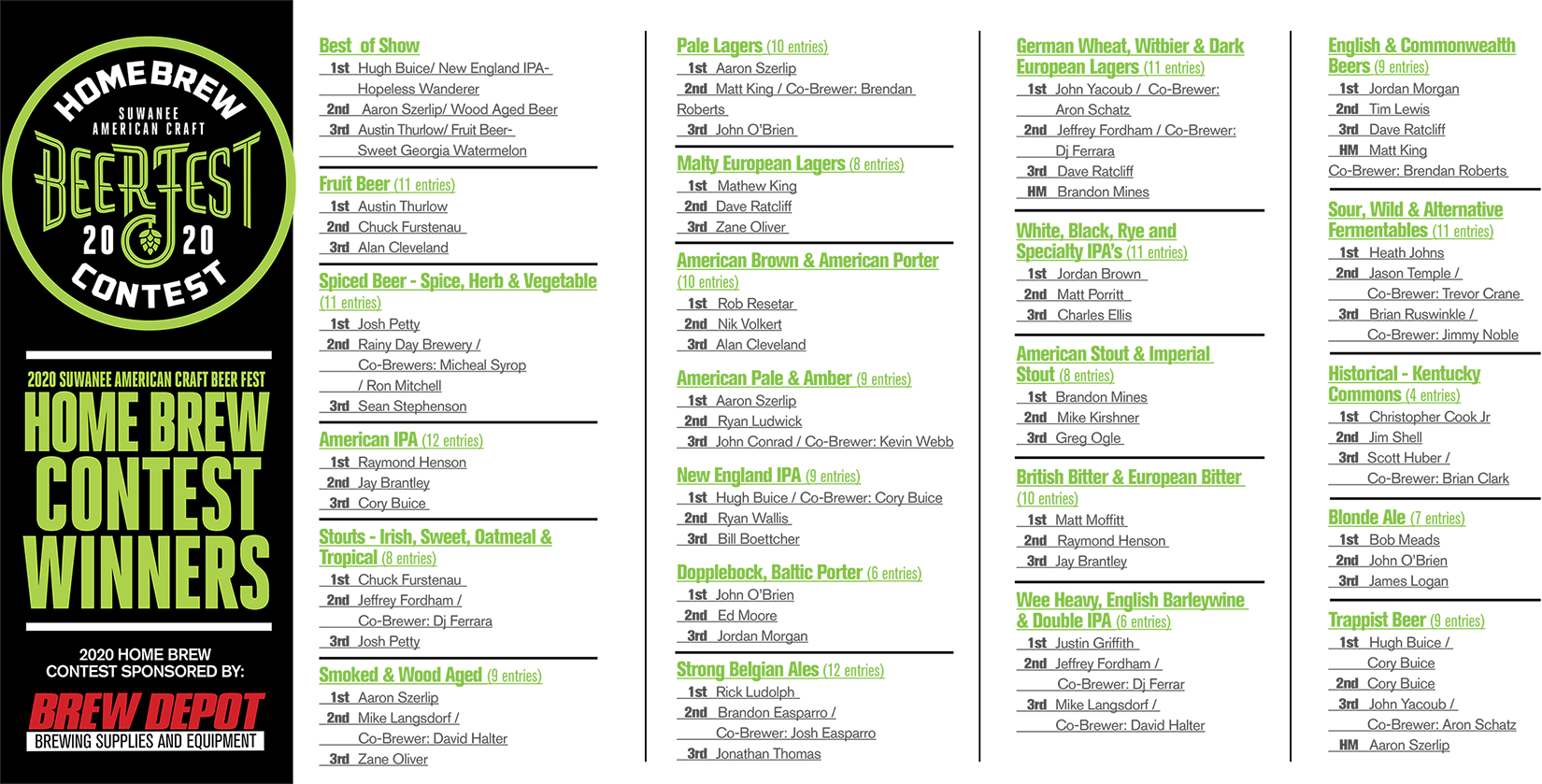 Congratulations to all of our 2020 Home Brew Competition Winners.