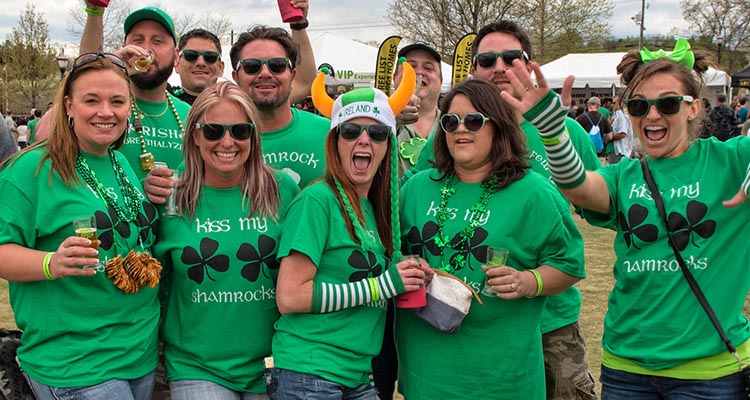 Craft beer-lovers favorite yearly tradition, the award-winning, Suwanee American Craft Beer Fest 2017 returns to Town Center Park on March 18th with more beer and more fun!
By: MICHELLE FASIG | Photos by: KARL LAMB
It's almost that time of year again – time for the 7th Annual Suwanee American Craft Beer Fest! Last year was the biggest and best year yet, and event organizers this year have promised to top it! Taking up the entire footprint of Suwanee Town Center Park, Suwanee Beer Fest continues to grow in size while maintaining the reputation as one of the best beer festivals in the South.
The new and improved layout at the festival last year saw festival attendees benefit from shorter lines, more bathrooms and easier navigation throughout the festival. Surprises like Giant Jenga, a live bagpiper and Wii dance competitions kept the festival surprising and fun while keeping the integrity of a true craft beer lover's festival. As the festival continues to grow, event organizers have promised to stay committed to improving the festival attendees experience.
The Largest Craft Beer Festival in Georgia
Each year thousands of people descend on Suwanee Town Center Park to drink their share of unlimited samples of over 300 different craft beers while decked out in their best St. Paddy's gear. The festival boasts live entertainment, delicious food, festival games, art, local vendors as well as being the home for one of the largest home brew competitions in the state of Georgia- sponsored by Brew Depot! Each year local home brewers go head to head in a battle to be crowned "Best in Show!" Let's not forget the "Best Beer in Georgia" competition; local Georgia breweries each submit a beer to be chosen by festival attendees as the best with live tracking updated in real-time with each pour with DraftServ technologies.
For those who truly want a VIP experience, there is no better place than the VIP tent. With exclusive beers and a delicious catered food spread – the VIP tent is the true craft beer lovers dream. But don't wait; VIP tickets sell out each year in less than 5 minutes. Tickets go on sale promptly at noon on February 3rd.

GUARANTEE YOUR TICKETS!
For those who want to guarantee their tickets to this sell-out event, the event organizers have great news! You can beat the rush and get your ticket early. Suwanee Magazine is proud to present the brand new Festival 3 Pack. This pass grants admission into all three of Gwinnett County's most popular festivals- the 2017 Suwanee Beer Fest, Gwinnett Beer Fest and Suwanee Wine Fest.
The Festival 3 Pack card also provides exclusive perks throughout the year for the true craft beer and wine aficionado, including: a free SweetWater Brewery tour, a free "Drink Here" Wild Heaven Brewery tour, 50% off a Monday Night Brewery tour, 50% off one festival merchandise item, and $10 off your purchase of $30 or more at Marlow's Tavern!
General Admission 3 Packs are only $99, meaning 3 Pack holders are essentially receiving entry to one event completely free! VIP 3 Packs are available as well for a discounted rate of $299 – perfect for beer and wine lovers who want to guarantee access to the exclusive VIP areas of these events. Remember, VIP tickets sell out in minutes-so this is the perfect opportunity to buy! Details available at Festival3Pack.com.
---