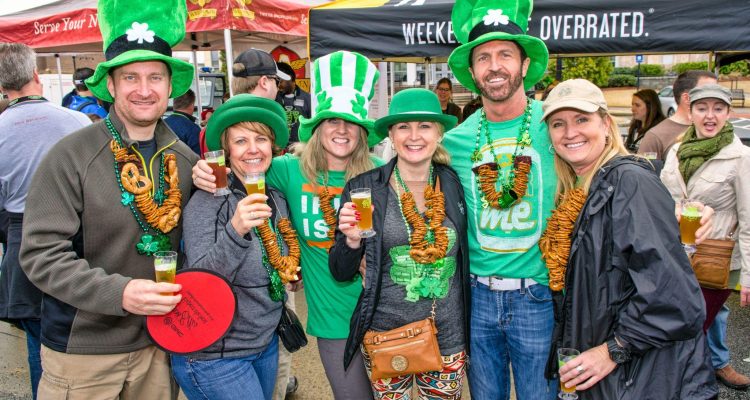 The Suwanee American Craft Beer Fest was recently voted the No. 1 Beer Festival in the country in USA Today's 2022 Best Beer Festival contest. Taking place on St. Patrick's Day weekend since 2011, the festival doubles as the largest craft beer festival in Georgia and one of the most highly anticipated St. Patrick's Day weekend events in the state. Boasting an unheard of selection of more than 350 craft beers from 100+ breweries, the festival draws an annual attendance of more than 6,000 craft beer fanatics from across the country (including Florida, Tennessee, Illinois and even California and Washington) to experience the ultimate celebration of American craft beer. Attendees come dressed head-to-toe in St. Paddy's green with kilts, shamrocks, green beards and more, making for a truly unique beer festival experience.
"Being officially voted the No. 1 Beer Festival in the country is a testament to the community and culture surrounding Suwanee Beer Fest," said Tiffany Belflower, Suwanee Beer Fest's event coordinator. "It is more than just a few breweries and beer — for 11 years, each aspect of the festival, from the breweries, beer, games and entertainment to the vendors and sponsors, has been meticulously curated to create an experience that has become what many feel is 'Suwanee's Favorite Day.'"
The annual ode to craft beer is also a communal experience where like-minded people gather together to enjoy an afternoon exploring and learning about beer — while also having a really great time. Over the past decade, the festival has hosted an impressive musical lineup that includes nationally recognized cover bands like Departure and Slippery When Wet, as well as a variety of festival games such as axe throwing, giant beer pong and cornhole. The festival is also known for its annual Homebrew Contest, a competition whose winners (and a beer judge) have gone on to open their own successful Georgia breweries, including StillFire Brewing, Jekyll Brewing and Social Fox Brewing.
Mark your calendar, because Suwanee Beer Fest makes its way back to Town Center Park on March 18, 2023. Tickets officially go on sale January 13, 2023, at noon.
Read the whole article here!