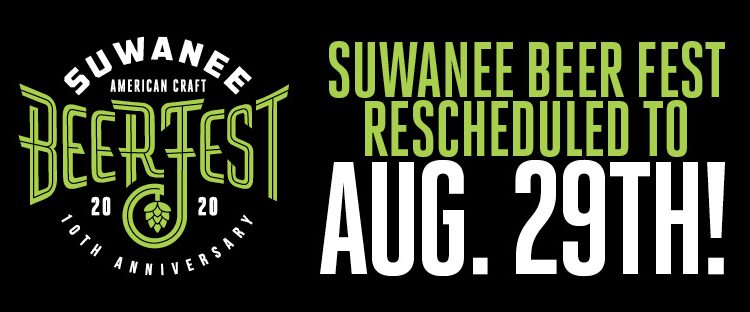 Suwanee Beer Fest organizers have continued to monitor the status of COVID-19 and its impact on our community. After careful consideration, we have decided to reschedule this year's festival to Saturday, August 29, 2020.
We are so grateful for your patience as we navigate the current climate and try to find the right balance of putting on the best event possible while also making sure it is safe for all attending. The health of staff, volunteers, vendors, breweries and attendees, as well as the community at large is paramount.
To show our appreciation, current ticket holders who keep their Suwanee Beer Fest tickets for the new August 29th date will be recognized as SUPER SUPPORTERS and will receive 30 minutes early entry to the festival, a pair of commemorative Suwanee Beer Fest sunglasses, access to a special SBF Super Supporter tent with exclusive tastings, extra water and a cooling station, as well as a chance to win exclusive brewery swag and giveaways. This is our way of saying thank you to all of our loyal attendees. After all, keeping your ticket helps to support jobs in our community, local businesses who benefit from the patronage of SBF attendees, and more!
Current ticket holders who are unable to attend the new date will have seven days, beginning today, April 28, 2020, to request a refund through Big Tickets at support@bigtickets.com. The refund will not include the Big Ticket processing fees.
While we're sad to push back the date, we're excited to have more time to plan the best festival yet. This additional time will also allow us to put measures in place to prepare for late summer temperatures, including misting stations and more. We can't wait to see you all on August 29th! Together, we can
#KeepGeorgiaBrewing
.