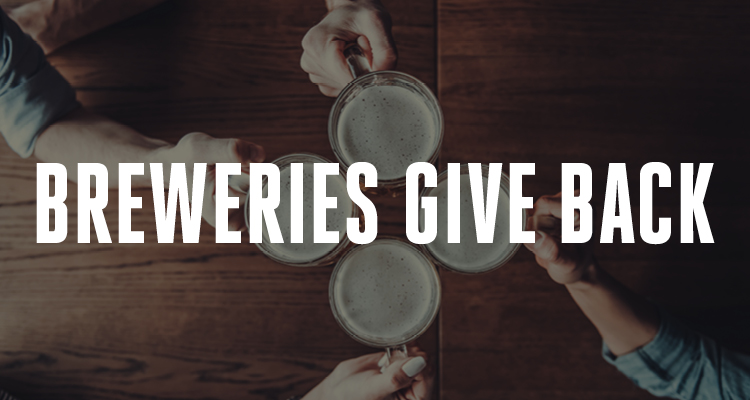 It's no secret that the spread of COVID-19 has had a detrimental impact on local businesses. As we are being urged to practice social distancing and to shelter in place for the foreseeable future, the restaurants, shops, and other businesses we typically frequent are facing uncertainty. Many have been forced to either close down completely or remain open with limited staff for to-go orders only. Even with the deluge of stressful news we've all encountered daily for more than a month, it's our local breweries who have emerged as the unexpected beacons of hope rallying around their communities. Here, we've highlighted a number of our favorite Georgia breweries and how they're going above and beyond for their staff and community during this pandemic.
Red Hare Brewing
This Marietta, Georgia-based brewing has partnered with a local T-shirt company to create a Red Hare T-shirt design with all proceeds benefiting both Red Hare Brewing and the T-shirt company employees.
Creature Comforts
The Athens, Georgia, brewery is now producing "Clean Creature" hand sanitizer and selling refill bottles ($8.49/bottle) through their drive-thru at the brewery. Limited to two bottles per person. Purchasing Clean Creature helps the brewery keep 100% of its  staff employed at full pay and allows them to provide free hand sanitizer to their Get Comfortable nonprofit partners. The brewery is also raising money through its flagship community outreach program, Get Comfortable, partnering with shelters, food co-ops and more.
Scofflaw Brewing Co.
Scofflaw is also making and selling hand sanitizer ($7/bottle) with 100% of the proceeds going to service industry workers in the form of grocery store gift cards. The brewery has also partnered with Bottleshare, The Giving Kitchen, Kulture City, South Carolina Lodging and Restaurant Association to raise funds for craft brewery employees in Georgia and South Carolina. The owner is matching funds raised and has donated gift cards for Kroger and Publix to craft beer industry employees. More than $70,000 has been raised so far.
Slow Pour Brewing Co.
Lawrenceville brewery Slow Pour is producing Thank You Note, a beer to say thank you to front line workers, who can receive a free six-pack of Thank You Note when they show their badge at purchasing. Slow Pour also recently hosted virtual bingo and raised $2,756 for the Giving Kitchen and the service industry.
StillFire Brewing 
Suwanee's hometown brewery created a new beer, Quarantine Survival Beer, with a portion of the proceeds benefiting The Meal Bridge, a nonprofit that delivers meals to hospital workers. They are also donating a portion of online sales to their employees.
Six Bridges Brewing 
Six Bridges recently hosted a blood drive that maxed out on donations. They are helping a local nature preserve, Autrey Mill Nature Preserve in Johns Creek, which has been using their spent grain to feed their animals.
Dalton Brewing
Dalton Brewing has increased bartender pay by 50% to help make up for lost pay and hours and has partnered with a local coffee shop that did not have to-go capabilities. The coffee shop is using Dalton's canner for its cold brew coffee to-go orders. This is helping to keep the coffee shop in business.
Akademia Brewing Co.
To feed those less fortunate, Akademia Brewing Co. has teamed up with the nonprofit, BottleShare, to form the outreach program, Think We Not Me, which aims to feed the needy in the Athens area. On March 18, the brewery kicked off its efforts by donating 150 hot meals to Our Daily Bread, a local community kitchen. Since then, Akademia Brewing has contributed more food through partnerships with Family Promise of Athens and The Salvation Army. To donate to the Think We Not Me program, visit charity.gofundme.com/akademia-outreach-program.
Good Word Brewing
Good Word Brewing & Public House in Duluth has temporarily closed its usual operations and transformed its business into a makeshift soup kitchen. From noon to 6 p.m. each day, the brewery's staff make soup to serve for free to those who are hungry or in the restaurant industry. If people are interested in offering support to Good Word, the brewery recommends purchasing a gift card, giving funds to its GoFundMe that supports its hourly staff, or donating to The Giving Kitchen, a local organization that aids Georgia restaurant workers in need.
Monday Night Brewing
Monday Night Brewing in Atlanta launched a to-go program to help support its employees. The brewery is donating 25% of all sales and 100% of tips to its nearly 50 furloughed staff members. People can pick up boxes of beer from both of its taprooms and even "quarantine kits," which include a pack of beer, roll of toilet paper and a Monday Night glass.
Pretoria Fields Collective
To aid the community against COVID-19, Pretoria Fields Collective, a farm brewery out of Albany — which currently has one of the worst outbreaks in the state — has repurposed its operations to mass-produce hand sanitizer. The product follows the U.S. Food and Drug Administration's guidelines, and will be overseen by the Georgia Department of Agriculture, according to an article by the Albany Herald. The brewery plans to distribute the hand sanitizer among first responders, those in the health care field and others in the Albany community. Their hand sanitizer is available for purchase at Sherwood Drug Store in Buford.
Wild Heaven Beer
Wild Heaven Beer, located in Avondale Estates and West Atlanta, recently started a special case deal to raise money for its furloughed staff. The brewery set aside nearly 200 cases of beer to be sold at $30 each. Wild Heaven employees will receive 50% of the sales.
Oconee Brewing Co.
Created a send a six pack campaign.  People can go online and purchase a postcard for someone.  Oconee mails the postcard which the receiver then turns in for a six pack at the brewery. Local residents have jumped on the bandwagon and are purchasing Send a Six Pack Postcards for front line workers.
NoFo Brew Co.
NoFo is supporting the local community by giving away gift cards to local restaurants and has launched a campaign to benefit Meals By Grace in Forsyth County with a $25,000 matching gift. 
Fire Maker Brewing Company
Fire Maker is giving free beer to all first responders with ID. Also, first responders receive 15% off everything at Fire Maker. A portion of all to-go beer proceeds will be donated to local charities Bottleshare and the Giving Kitchen.
Collaboration
Other Half Brewing Co. out of New York is encouraging craft breweries to come together to support those in the hospitality industry who have been adversely affected by the pandemic. This massive collaboration stands behind a project called "All Together," which offers an open source recipe for an IPA created by Other Half Brewing. Breweries from around the world are encouraged to use the base beer recipe for All Together — which is designed to be made at a low cost — and add their own twist to it. Stout Collective contributed the free-to-download label artwork, and Blue Label Packaging Co. has pledged to print the labels at their own cost for participating breweries.
Sam Richardson, Matt Monahan and Andrew Burman, the founders of Other Half Brewing, ask that breweries donate a portion of their All Together beer's proceeds to supporting hospitality professionals in their community, and contribute the rest to keeping their respective breweries alive. "At the end of the day, this is about what it's always been about — community," said Other Half Brewing's founders in a statement. "While we may not be able to come together in person right now, that spirit can never be taken away from us."
So far 10 Georgia breweries have answered the call from Sandy Springs, Savannah, Valdosta, Atlanta, Athens, Johns Creek, Decatur and Avondale Estates. Each has chosen different organizations or fundraisers to help, including The Giving Kitchen out of Atlanta, which provides emergency assistance to food service workers through financial support and a network of resources. Others, including Wild Heaven Beer, Pontoon Brewing and Six Bridges Brewing, have committed to donating a portion of their All Together funds toward Bottleshare, a Kennesaw-based nonprofit that aids craft beverage industry workers who have experienced extreme hardships outside of the workplace. The organization selects one grant recipient per quarter and awards them with $5,000.
Breweries interested in joining the cause can access the All Together recipe, label designs and other valuable information by visiting the initiative's website, AllTogether.beer.
Here's a recent list of Georgia brewery participants and their chosen charities:
• Pontoon Brewing: Bottleshare
• Scofflaw Brewing: Bottleshare
• StillFire Brewing: MealBridge
• Service Brewing Co.: The Giving Kitchen
• Georgia Beer Co.: The Giving Kitchen
• Halfway Crooks Beer: The Giving Kitchen
• Two Tides Brewing Co.: Support Savannah Hospitality Industry
• Creature Comforts Brewing Co.: Restaurant Employee Relief Fund
• Six Bridges Brewing: Bottleshare
• Southbound Brewing Co.: Staff of Southbound Brewing Company
• Wild Heaven Beer: Bottleshare
• Sceptre Brewing Arts: Staff of Sceptre Brewing Arts