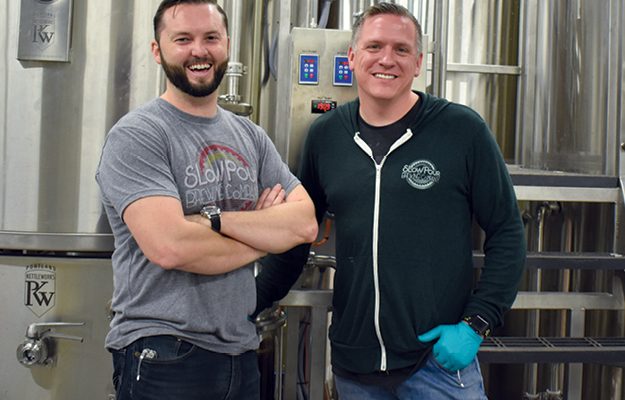 "Our name is based on the notion that nothing good happens in a hurry and that the most important moments in life should be shared with friends – over a good beer," said John Reynolds, Co-Founder, and Master Brewer.
Slow Pour Brewing, located in downtown Lawrenceville in a historic auction hall, is proud to be Gwinnett's first brewery. The Georgia craft beer scene has been on the rise for several years, especially in Atlanta, but Gwinnett County has been in need of a place like this: a craft brewery to stake their name to.
Working as a QA Analyst in the IT industry for 15 years, Reynolds said he slowly began to feel like "life was being sucked out of [him] every day in corporate America." Roughly five years ago he began home brewing as a hobby and really enjoyed the process of creating unique recipes.
In 2015 he was laid off and confessed, "It ended up being the best thing to ever happen to me." Reynolds, along with his brother-in-law, bought the historic Lawrenceville building on Clayton Street in 2015 and began the two-year process of renovating the space and transforming it into a brewery and 3,000 square foot tasting room, open Thursday through Sunday.
The brewery opened its doors in September of 2017 and celebrated with a huge grand opening party complete with a special live performance from the chart-topping country band, A Thousand Horses. Some might recognize another "A Thousand Horses" tie-in to the brewery: Southernality is the name of the band's debut album and the name of Slow Pour's deliciously hoppy, yet easy-to-sip Session IPA.
Staying true to their roots, a sense of Southern charm seeps into everything that Slow Pour does. Reynolds is a Gwinnett native and UGA alum who grew up in Suwanee when "the only thing we had was a McDonald's, a gas station and the Falcons complex." Now, he is committed to making an impact in the community that raised him. Slow Pour Brewing has formed strategic partnerships with other local businesses, so they can continue to help each other grow and evolve. Whether it's from their Peachin' to the Choir Blonde Ale that is infused with a salted peach puree hand-crafted by Lawrenceville's Local Republic and Strange Taco chef, Scott Smith, to their spent grain that local farmers use as compost or cattle feed and then sell food back to restaurants in the area, they are committed to being an integral part of the local community.
Popular downtown Lawrenceville restaurants, Local Republic and Strange Taco, also partner with Slow Pour Brewing by offering catering services for their events. During normal Tasting Room hours, guests are allowed to bring food into the brewery, get it delivered there, or order from a service like UberEats. "We want people to feel completely comfortable here and make themselves at home. Bring food in, grab a beer, sit back, relax, play some games and stay awhile," Reynolds said.
And in case anyone was wondering, yes the beer is very good. It's no wonder, too, given Brewery Consultant Chase Medlin's eight years of professional brewing experience and four years of home brewing experience prior to that. "We brew beers that we like to drink, what we're interested in. It's about scratching your own itch," Medlin said. And although the brewing process can be laborious, as we saw when we visited on a "brewing day," the team at Slow Pour is all about having fun. "I can't ever imagine going back to the corporate world now," said Reynolds as he stood at the helm of his 10-barrel brewing system, perfecting a Dunkel that we are eager to soon try.