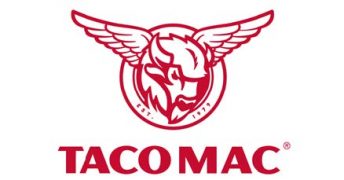 Taco Mac Suwanee is dedicated to supporting local breweries in the area and has partnered with Slow Pour and Left Nut to pour samples of their most popular beers in the Georgia Beer Garden. But the fun doesn't stop there, the tent will also feature the debut of local Suwanee brewery Monkey Wrench Brewing. If you work up an appetite after drinking all that beer, make your way to the food court where Taco Mac will also be serving a variety of flavored wings.
Inside the Taco Mac Tent:
Left Nut Brewing: "What would you give up to pursue your passion?" That query and a bit of humor was the basis and foundation that launched Left Nut Brewing Company. Located in Gainesville, Georgia, the brewery occupies the historic Chicopee Mill building constructed in 1927 as a textile mill by Johnson & Johnson. While enjoying award-winning beers, visitors are surrounded by the original brick, 12-foot-high glass factory windows, and beautiful heart pine ceilings which provide a warm and cozy atmosphere — despite the industrial, gleaming stainless tanks and brewhouse which are fully exposed to the taproom. Left Nut distributes across all major markets in Georgia, and is now expanding to South Carolina through 2019. Here are a few of the samples they will be pouring at Suwanee Beer Fest: Leaping Lena, Shade Tail Nutty, Sweet Mangolia, and the Hooch Shootin' IPA.
Slow Pour Brewing Company: Located in downtown Lawrenceville, Slow Pour Brewing was proud to be the first brewery in Gwinnett County. Since opening in 2017, the brewery has continued to grow in popularity. Whether it's from their Peachin' to the Choir Blonde Ale that is infused with a salted peach puree hand-crafted by Lawrenceville's Local Republic and Strange Taco chef, Scott Smith, to their spent grain that local farmers use as compost or cattle feed and then sell food back to restaurants in the area, they are committed to being an integral part of the local community. "We want people to feel completely comfortable here and make themselves at home," says owner John Reynolds. "Bring food in, grab a beer, sit back, relax, play some games and stay awhile." The reigning Georgia Brew Battle champs return to reclaim their title at the 9th Annual Suwanee Beer Fest. Here are a few of the samples they will be pouring: Southernality IPA and the Lager Jammin Vienna Lager.
Monkey Wrench Brewing: Making their debut at Suwanee Beer Fest, Monkey Wrench Brewing is set to open its doors in Suwanee later this year. The new Suwanee brewery will be located just five miles south of Town Center, and will have access to the greenway allowing customers to walk, bike, or drive over to the new taproom and beer garden. "Brewing has been a serious passion of mine for over 20 years and there's no stopping now," says Wayne Baxter, Founder & Brewmaster. "Our goal is to make amazing beer in a fun gathering place for the community. The team at MWB is working hard and motivated to create a quality product that your friends and family can enjoy and share over and over again. We are excited to share our Monkey Wrench Brews with you soon!" Here are a few of the samples they will be debuting at the festival: The MWB Hop Western Imperial Style IPA and The MWB Lucky Monkey Belgian Trappist Ale.